Unfortunately, many school cafeterias are serving up lousy lunches made from processed food products that are low in nutrients. Health conscious parents feel compelled to send their kids to school with packed lunches to ensure they're eating right.
If your child gets tired of the same boring lunches or is a picky eater, coming up with new, healthy ideas can be truly challenging. The key to making sure your kid eats well may be as simple as thinking beyond the traditional sandwich.
These five school lunch ideas are designed to appeal to young taste buds while packing plenty of nutrition. From frozen treats to sneaky ways to serve veggies, you'll love these healthy lunch ideas for kids.
Smoothie Pops
Blend your child's favorite smoothie and freeze it into a reusable Popsicle mold. If you put a fully frozen pop in the lunchbox along with an ice pack, the smoothie pop should be defrosted just enough to eat with a spoon by lunch time. Kids of all ages love this recipe for a PB&J smoothie.
Ingredients:
6 frozen strawberries
½ frozen banana
1 Tbs natural peanut butter
1 cup unsweetened almond milk or milk of your choice
½ Tsp vanilla extract
1 scoop vanilla unflavored protein powder (optional)
1 packet stevia (optional)
Add all ingredients to your blender and blend until smooth. Add stevia to sweeten to your child's liking.
Sneaky Mac and Cheese
We generally associate mac and cheese with butter and a packet of neon orange powder. But you can cleverly make healthy mac and cheese that will satisfy your kids and their nutritional needs.
Sasha and Malia Obama's favorite mac and cheese sneaks cauliflower into the kid-friendly dish. Cauliflower is an excellent source of vitamin C, vitamin K, folate, vitamin B6 and fiber. Parents and food bloggers Maria and Josh fromTwo Peas and Their Pod slip vitamin A-rich butternut squash into their mac and cheese.
Make an extra large batch of healthy mac and cheese for dinner. The next morning, heat it up and send your child to school with a thermos full of yummy leftovers. Maybe there will be enough for your lunch too!
Lunchbox Kabobs
You can be endlessly creative with lunchbox kabobs. Use cookie cutters or a knife to slice fruit, cheese, whole grain bread and veggies into bite-size pieces. Take your selection of bites and thread them onto a skewer.
Some of our favorite kabob combinations are:
Mediterranean-inspired kabob with melon balls, cherry tomatoes, chunks of feta and whole wheat pita.
Ham and cheese kabob with ham, cheddar, apple and whole wheat bread cut into star shapes.
Mozzarella with strawberries and grapes – another yummy combo!
Keep in mind that the ends of some skewers can be rather sharp, so look for kid-friendly skewers or even use a plastic straw.
Protein Cookies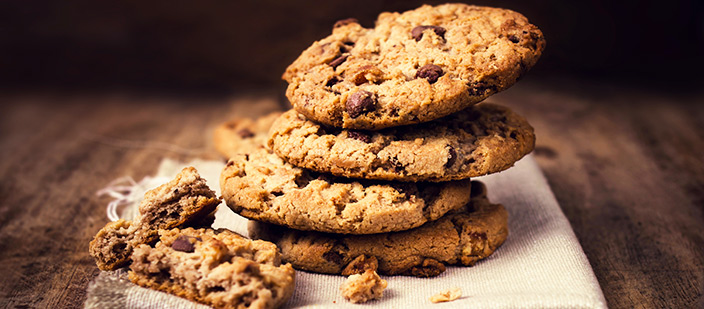 Here's one for the kid who eats the cookies first and leaves the rest of the lunch in the lunchbox. It can be tough to get a child with a sweet tooth to eat nutrient-dense foods, but these high protein cookies may be the solution! Along with having extra protein, these cookie recipes contain other healthy whole foods like nut butter and oats:
Homemade Healthy Chips
A mini bag of potato chips isn't going to do your child any good, but a heaping helping of some homemade veggie chips is certainly worth munching on! You can make many different veggies into chips using a few choice spices, healthy oil and a hot oven.
We love the salty-sweet flavor of these Sweet Potato Baked Chips with Orange and Thyme. Sweet potatoes get their bright orange color from the antioxidant beta-carotene, which can help ward off disease-promoting free radicals.
If your kid normally turns up a nose to leafy greens, give this Garlic Bread Spinach Chip a try. One cup of spinach delivers 987% (wow!) of the recommended daily value of vitamin K, which is important for bone health.
Small chores like packing healthy lunches for your kids may not seem like much now. But the gift of good nutrition is one that lasts a lifetime. WIth a little creativity and planning you should be able to create healthy, energy-boosting kid friendly lunches every day!
Do you have any healthy packed lunch tips? Share them with us below in the comments.